Seeing with your heart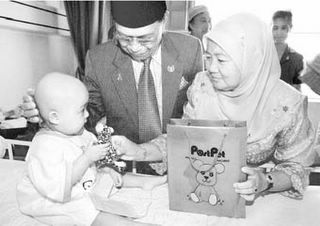 Seeing with your heart. Photo Credit: The Borneo Post


The Borneo Post today carries a photograph of the Head of State of Sarawak, Malaysia and his wife presenting gifts at the Children Cancer Ward of Sarawak General Hospital, Kuching. It was a catching photograph – no acting-up, but purely the tender loving care that fills the space.

I have spent many years working in the newspaper organizations. My first few years were spent in the news room. I remembered my immediate boss' favourite words were "put your heart in it". And he would "summon" me into his office for a slight mistake in my work. I also remembered getting a local dignitary's name wrong. It was a disastrous one because his name turned out to read as a "dirty language" in our own dialect.

What turned out to be disastrous opened the floodgates of my world from "putting your heart in it" to "seeing with your heart".

The mentor of my formative years introduced me into the inspiring works of Fanny J. Crosby. This included "Blessed Assurance" and "All the way my Saviour leads me".

What's so special about Fanny? My mentor said she "saw" with her heart. She was blind from the age of six weeks. How could she "see" the world and wrote such beautiful songs? She used her heart to see God's creation. I believe Fanny saw with her heart. Therefore, she had the inspiration to pen over eight thousand gospel songs in her lifetime filled with praise, thanksgiving and trust in God.

See the things and people around with your heart today. Take a photograph with your heart.

**My immediate boss was Dato' Clement Hii, who is now CEO of SEGi Group. My first mentor is Francis, my English teacher in my secondary school days.