The rose within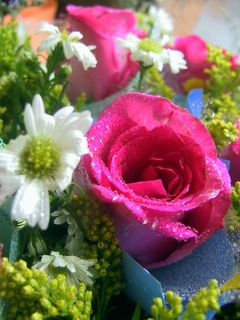 Roses are red... Photo Credit - Jocelyn T, See Hua Daily News


It's Valentine's Day. Early morning, a friend sent me a SMS, it reads –
Love yourself. Love yourself for where you've come from and how you've arrived here. Love yourself for where you are. And when you leave here, love yourself for the process of moving forward. No matter what happens, just love yourself while it's happening, this is the way to honour the truth of who you really are. You are loved by this wise lady called Barbara De Angelis.
One of the "must" for Valentine's Day is roses. Yes, roses, roses, roses everywhere.
I have a group of journalists working with me in the same office. I took a survey just before the end of the day to see if there were roses around.
A young charming journalist had one young bud in a vase on her table. She excitedly told me that she picked up the bud from the street and said the bud would soon blossom.
One male journalist jokingly said, "How can any beautiful flower come from the bud with so many thorns?
"No, within every bud, there is a rose. You have to water it." Another remarked.
As it is with buds that will blossom into roses, within every soul there is a rose also.
There are many people who look themselves and see only the thorns, the faults. They despair, thinking that nothing good possibly come from them. They never nurture the good within them.
On valentine's day, love yourself, reach past the thorns of your life, and let the rose within blossom many times over…Yes, within every soul there is a rose…